If you have wired and engine oil temperature sensor, use this input :)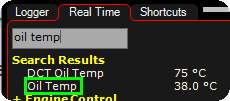 When this input is enabled, a new RealTime Data value is visible which can be used in the whole system.
If an OEM vehicle CAN is enabled, and if the vehicle dash have an oil temperature indicator/meter, this input is also used to send data to the dash.
Currently used by
Note: Make sure the enabled OEM CAN protocol is using this input before activation.
Example

Custom calibration can be used to send data to the instrument cluster.