The tuner selector is a variable which can be used in the whole system, to select different "tunes".
This variable is available as an axis choice in all tables.
Example
You have on potentiometer installed in your car which can increase boost level, change target wheel speed in power management, or whatever you want to do.
Requirements
•A potentiometer wired to an analog input.
•Calibration of the voltage inputs, see example below.
used positions
Specifies the number of different tune positions available in the system. 3 (default)-16.
stabilization time
Specifies the time in seconds needed for the voltage to be in the position range before it changes the actual position.
Position X voltage
Specifies the voltage to be used to activate the current position. Use the get current voltage when the potentiometer is at the correct position.
Note: Halfway to the next voltage, next tune selector will be selected.
Example
Input voltage example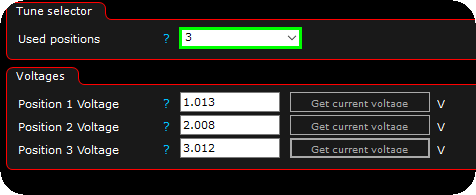 In the above example, 3 different tunes is available in the system for any X or Y, or even as a 4D axis.
In the above example, the following input voltages will trigger the different tunes:
•Tune selector 1 = 0 - 1.5V
•Tune selector 2 = 1.5 - 2.5V
•Tune selector 3 = 2.5 - 5V
Tune selector to change target wheel slip in traction system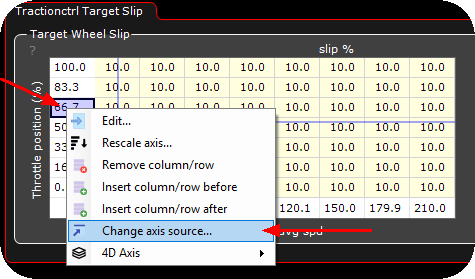 1. Change the axis source by right clicking on the current axle value, select Change axis source...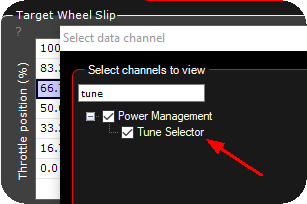 2. In the change axis source dialog, search for "tune" and select the Tune selector and press the OK button to confirm, a rescale dialog will appear, change to suit your need.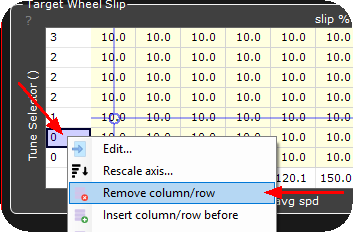 3. Depending on how many column/rows there was in the table, and how many you inserted, you need to modify to it so there is no duplication of the same tune selector in the axis sources.

4. In the above table, different target wheel slip in MaxxECU traction system can be used, based on the tune selector.
Tune selector to change boost control in 5 different steps

1. Select a boost solenoid(simple(open loop) on the wired output.

2. Enable the extra adjustment table.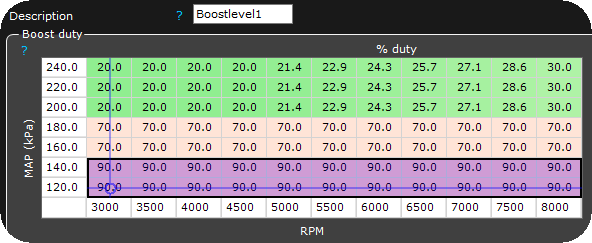 3. Example of a basic boost duty open loop table.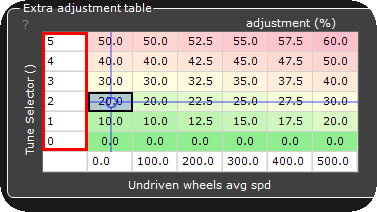 4. Change axis source to the Tune selector, and for example the other axle to vehicle speed (or any other values you think is good for your purpose). Also, this requires you to have already setup and calibrated the tuner selector input (input voltage example above).