Inputs.
•All four individual wheels speed from stock ABS into MaxxECU traction system.
Outputs.
•Instrument cluster (speed, tacho, CEL, odometer etc) working.
Optional CAN.
•Stock ESP button can be used to activate/deactivate MaxxECU built in traction system, uses stock light on dash for confirmation.
Other support
•ABS is working
•Haldex AWD is working
Not working/issues.
•Fuel consumption in instrument cluster.
•Cruise control not used.
•VCDS diagnostics with ECU is disabled.
Changelog
•Smoother speedometer output in dash in MTune 1.121.
•Supported from firmware 1.89.6594
Additional information
This CAN protocol has been tested with the following Audi models also:
•Audi S4 B5 (ECU number 8D0 907 551 D)
•Audi RS4 AZR (ECU number 8D0 907 551 K)
•Audi S4 (US spec), (ECU number 8D0 907 551M)
•Audi S4 (US spec), (ECU number 8D0 907 551A)
•Audi A4 (EU spec), (ECU number 8E0 909 518 AS/0261 208 500) <-- AC fan might not work, under investigation.
Note: Audi S4 B5 must enable this protocol to get dash / abs to work properly, refers to ECUs ending with D,H,G,M.
Audi S3 dash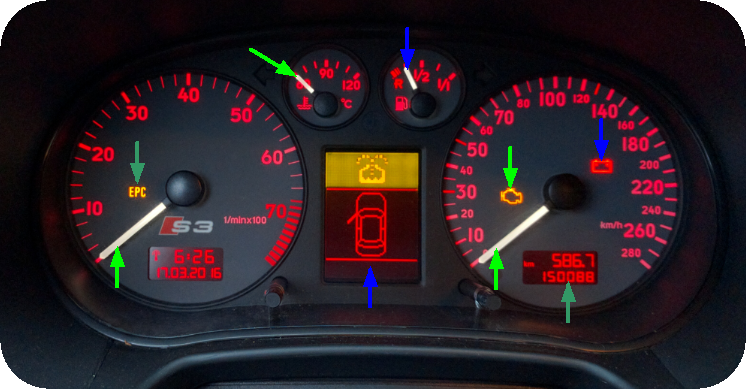 Arrow explanation
Green (light): Working.
Green (dark): Working (but not controlled by CAN).
Blue: Not ECU controlled.
Orange: Partly controlled by MaxxECU.
Yellow: Turned off.