Inputs (working)
•AC request/idle up.
•Brake pedal.
•ABS wheel speed directly into MaxxECU traction system (four individual wheel speed).
•ESP button is used to enable/disable MaxxECU traction capabilities.
•Steering wheel buttons for Cruise control. <-- the actual buttons is not CAN, but they will only work if this OEM CAN is enabled in settings.
•ESP + AC button can be custom defined by using the OEM CAN Buttons.
Outputs (working)
•Tachometer (RPM).
•Odometer.
•Check engine light.
•Engine temperature.
•Engine overheat warning light.
•Oil temperature (using CAN System Oil Temperature input). <-- only on M5 dash.
•Shift light RPM. <-- only on M5 dash.
•Low oil level light (yellow) is always off.
•Oil pressure light, see example below.
•Cruise control light.
•Charge/alternator light controlled by battery and RPM.
Not working/issues/work in progress
•OBDII works only when CAN wired to OBDII connector (requires JMTII terminals).
Changelog
Tacho adjustment and added to value presentation system in MTune 1.145.
Wheel speed correction function added in MTune 1.142.
Initial support in MTune 1.124.
Confirmed to work models
•BMW E39 M5 1999, Siemens DME MSS52.
Cruise control buttons
The OEM CAN protocol must always be activated first

When enabled, extra options for the activated CAN OEM PROTOCOL is available inside MTune.
Note: The below steering wheel Cruise control buttons requires a wired digital input and configured as BMW MS 43 Steering Wheel Buttons.
Cruise control buttons on the BMW 330i. Set speed by pressing SET, press (and hold) ACC to accelerate or DEC to decelerate. To stop the Cruise control feature, press brake pedal or press the OFF button.
Use the steering wheel buttons for any other than Cruise control.

1. Be sure to disable the Cruise control function in MaxxECU.

2. The steering wheel Cruise control buttons is transmitted to the digital input 4 (DIN 4) of MaxxECU (when using our M54 plugin), make sure the DIN 4 function is enabled as BMW MS 43 Steering Wheel Buttons.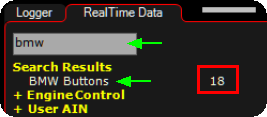 Available now in the whole system to be used as anything is a new RealTime Data value called BMW Buttons.
| | |
| --- | --- |
| BMW steering wheel button | BMW Buttons (output value) |
| Cruise control ON/OFF | 72 |
| Cruise control SET | 18 |
| Cruise control ACC (+) | 36 |
| Cruise control DEC (-) | 128 |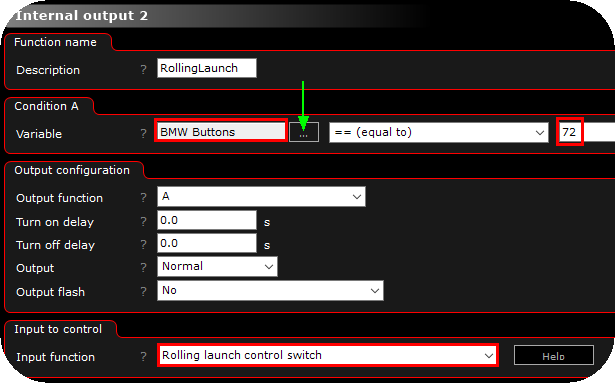 3. By using an internal output, and use the BMW Buttons as a condition, a digital input functions can be triggered from inside the system, like on the above example, when cruise control ON/OFF button is pressed, the rolling launch feature is activated.
The BMW MSS52 DME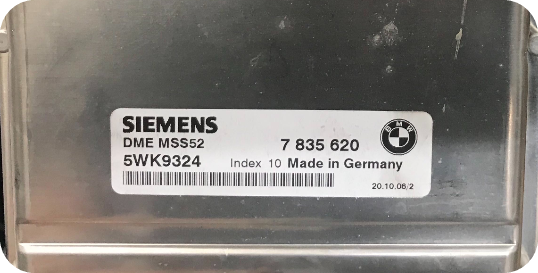 Wheel circumference must always be calibrated using an OEM CAN protocol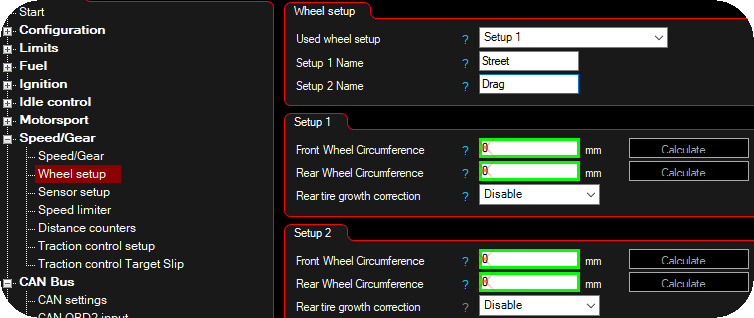 When we calibrate the wheel speeds from an OEM vehicle (to make an OEM CAN Protocol), we always use the stock wheel sizes, so to get correct wheel speeds within MaxxECU, you must calibrate your wheel dimensions, since they are used to show you the correct speed in MaxxECU.