VAG DSG related links
•VAG DSG (DQ250) wiring and hardware requirements.
•VAG DSG (DQ500) wiring and hardware requirements.
•DSG RealTime Data description.
Note: Do NOT activate the MaxxECU Default V1.3 CAN output on the same bus as the DSG, cause it will interfere with the control operation and cause trans going to neutral and random strange issues.
How does the DSG TCU torque control works
•All torque values transmitted to the TCU is between 0 and 620Nm.
•The transmitted torque value has a direct relation to the DSG clutch pressures, but be aware, DO NOT send to much torque to the TCU on lower loads (since that will not give you a smooth shift transition).
•If you engine produces max 350Nm on the dyno, there is no reason to send 620Nm.
•The standard torque table values will probably work for most setup, but might require a little bit of tweaking.
DO NOT TRANSMIT MORE TORQUE THAN YOUR ENGINE DELIVERS, IF ANYWAY DO THAT, AFTER A CERTAIN AMOUNT OF TIME YOU WILL GET TCU ADAPTION ERROR CODES.
DCT torque
This is the main torque table, transmitted to the TCU "engine torque" and controls the behavior of the TCU, as written above, the transmitted torque value has a direct relation to clutch pressures.
Drive around (preferable on a dyno where you can see actual engine torque and populate the torque table with as close to real values as you can think of).
•Less Torque --> Will increase the clutch slip.
•To much torque --> Will shift too hard.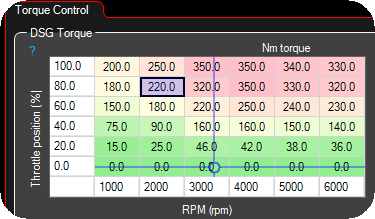 Default torque table, adjust to suit your need, as always with MaxxECU, you can change axis value to suit your need better.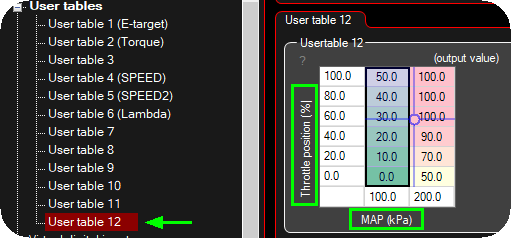 Another option is to create a User table to be used as the torque table load load axis, example below.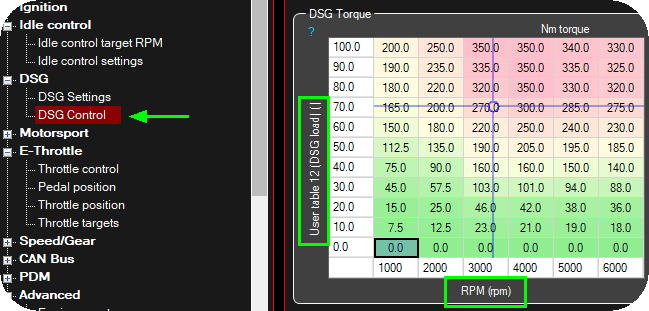 Example of having a user table as the load axis in the DSG torque table, which might be preferable.